Since the first Monster® cable was born in 1979, Monster has grown into the world's leading manufacturer of high performance cables needed to connect audio/video components for home, car and professional use as well as computers. Monster Cable is an indispensable component for music lovers, audiophiles, recording studios, sound professionals, musicians, custom-installers and home theatre enthusiasts.

Monster's audio cables increase the clarity, dynamics and power of all audio signals that pass through them. Monster video cables deliver the sharpest, clearest picture possible. With Monster Video, your video is reproduced with naturally vivid color from both traditional and digital television, projectors, home theatre and satellite systems. Monster Game products lets gaming enthusiasts enjoy the ultimate gaming experience by maximizing sound and video quality of a gaming system. Monster Power, a division of Monster Cable, delivers cleaner AC power to A/V components and computer products and high joule surge protection for maximum performance.
Monster® products are now used in over 4,000 items including speakers, subwoofers, furniture, camera bags, cell phone headsets, rechargeable and single-use batteries, power line conditioners, voltage stabilizers, surge protectors and every kind of cable imaginable all with a single focus— to help home theater, music and photography enthusiasts get all the performance they paid for. ™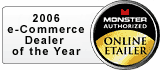 See below for a list of cables available to be ordered in custom lengths.

Monster Cable will hand terminate your cable to the custom length you specify.
Tired of bundling cables behind the components because they are too long? Need a 63 foot run of Monster Video 3 Component Video Cable? Maybe a Monster Coaxial Digital Cable in 8 feet isthe exact length for this job. Well, why not order these cables in the specific length that you need?
Many Monster Cables are available to custom order at the exactlength you need!
With the complexity of today's home entertainment systems, it is important to use the proper cables when installing equipment in order to get the maximum performance from the system. A problem arises when the standard cable lengths will not work due to the location of the equipment. The equipment may be stacked too close together for 1-meter cables causing a large bundle behind the equipment. Possibly, equipment may be too far away causing multiple cables to be connected together. Both scenarios are not ideal or recommended.

From our website you can find the exact price for any specific length of cable that you need. Point-and-click ordering makes purchasing a custom length Monster Cable a snap. Once your order is placed, Monster Cable receives your request at their factory and a Monster Cable custom technician proceeds to cut and terminate your selected cable by hand to ensure the highest production quality for the best possible performance.

So what cables are available for custom lengths?
Virtually every audio and video cable that MonsterCable makes can be ordered to a custom length including RCA audio cables, digital coax cables, coaxial f-pin cables (RG-6), component video cables, composite video cables, BNC video Cables, S-video cables, speaker wire and subwoofer cables. Certain models (i.e. cables with molded ends) and types of cables that have maximum or predefined lengths (i.e. THX certified cables) can not be made in custom lengths .
Even if we do notstock the cable you need custom ordered, please call 1-866-224-6171 to get a quote for the length of cable you need. We are able to custom order any Monster Cable product.

Please allow additional processing time for custom length cables. Average delivery time is 2-3 weeks. Custom ordered cables can only be returned due to a manufacturing defect.

Phone
Customer Service Hours
Mon-Fri: 8am-7pm CST
Saturday: 9am-5pm CST
Address
Discount Golf World
2828 Broadway St
Quincy, IL 62301
Email Sign Up!
Sign up for news and sale notices. Be the first to know!