Click to thumbnail to select

















0
0
(0 Reviews)
Write a Review Here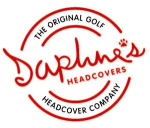 Authorized Dealer
Daphne's Wildlife Headcovers Details
Take your favorite critter to the golf course, and show your personality, with a Wildlife Headcover from Daphne's, the leader in novelty headcovers. These high quality headcovers are found on the clubs of golf professionals around the world as a way to set them apart from the ordinary. You too can distinguish your bag, and have a little fun in the process, by protecting your driver with headcovers designed to show some flair and individuality.
Fits up to 460cc driver
Extensive variety from the industry leader
Made from highest quality materials
Adds individuality and personality to your bag
Daphne's Wildlife Headcovers Reviews
Thanks for taking a moment to learn about our "Verified" designations.
We employ verification processes to build credibility and promote product reviews.
Verified Buyer
An individual who has purchased the reviewed item from our company and submitted their review using a process that verifies purchase history. This designation ensures the actual buyer is reviewing the purchased item.
Verified Reviewer
An individual who has confirmed their email address using our validation process. This designation ensures that product reviewers are using their real email addresses.
Product Q & A
Does this head cover have a sleeve, neck, that goes up the shaft?
Friday, April 05, 2013 08:15 AM
Answer by a Discount Golf World Expert
The inside of the Daphne Wildlife Cougar Headcover is fitted with elastic to secure the head of your driver, but there is no additional sleeve beyond what you see in the image above. Thank you for your inquiry to DGW. We hope this answers your question, but if you have additional questions regarding this product, please call us at 1-866-411-4349 and one of our customer service experts will be happy to help.
Friday, April 05, 2013 08:24 AM
Daphne's Wildlife Headcovers Variations
Customers who bought Daphne's Wildlife Headcovers also bought

Callaway Ultra-Lite Pocket Golf Ball Retriever
Adjustable, Lightweight, Fits Any Pocket

Charter Jumbo Spot-Liter
15 Jumbo Size Spot-Liter Ball Markers
The full manufacturer's warranty from Daphne's is only valid when the Daphne's Wildlife Headcovers is purchased from an Internet Authorized Dealer. We will match any Internet Authorized Dealer's best price on the Daphne's Wildlife Headcovers. The Daphne's Wildlife Headcovers may be referred to by the following terms: 710489100701, 710489100909, 710489103801, 710489187443, 710489200500, 710489200609, 710489202009, 710489202207, 710489203716, 710489204300, 710489206113, 710489206403, 710489206601, 710489285224, 710489500143, 710489501348, 710489510357, FOX, RAC, WILDLIFE BEAR, WILDLIFE BEAV, WILDLIFE BOB, WILDLIFE BUFO, WILDLIFE COU, WILDLIFE DEE, WILDLIFE ELE, WILDLIFE GORO, WILDLIFE GRIO, WILDLIFE LIOO, WILDLIFE MOO, WILDLIFE PAN, WILDLIFE TIRO, WILDLIFE WOL, WILDLIFE ZE.
<![if !IE]> <![endif]>